A few days after we purchased Clare, we went to our local Indiana BMV office to register the car. We found out that we needed to get a new license plate as well, since Brigid's license plate was for a truck, not a car.
Here in Indiana, we have two choices for license plate designs (that is – for the free passenger car license plate). One shows the design of the Indiana state flag, a gold torch and nineteen stars signifying that Indiana was the 19th state to join the US. The other design has a flying flag in the background and says, in big letters "In God We Trust". When we went to our local BMV to register Clare, we said we wanted the torch and nineteen stars. We stressed that we did NOT want the "In God We Trust" design. We reiterated our wishes several times.
Guess what arrived in the mail. That's right. You can see it right here. We were sent the "In God We Trust" design.
Now, I would like to believe that it was a mistake. But I just don't know. I was, to put it mildly, peeved.
So, we, being the people we are, immediately went to the BMV office to correct this. But it was Monday and the office was closed. It was probably just as well that we had to wait until Tuesday morning. By that point, my emotions had cooled a little, and I could go there and simply say that I thought someone had made a mistake. With pursed lips, and no apologies, the woman behind the counter filled out another registration application form. We needed to get another temporary license. We needed to wait another two weeks for our new plate. But now, I am happy to say, Clare has the Indiana state flag design.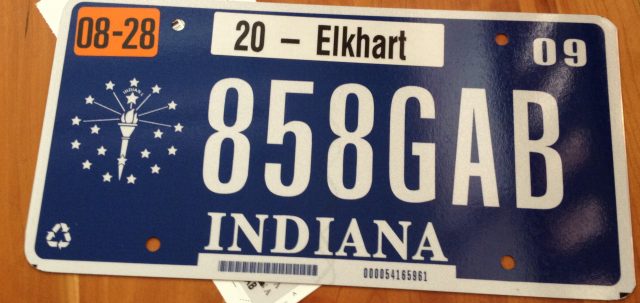 So that little voice in the back of my head wonders. How many "mistakes" like this occur? How many people were sent the wrong design and just didn't think they could exchange it or didn't want the hassle of going back to the BMV to correct the mistake. I wonder.