Goshen College Convo Talk – 1998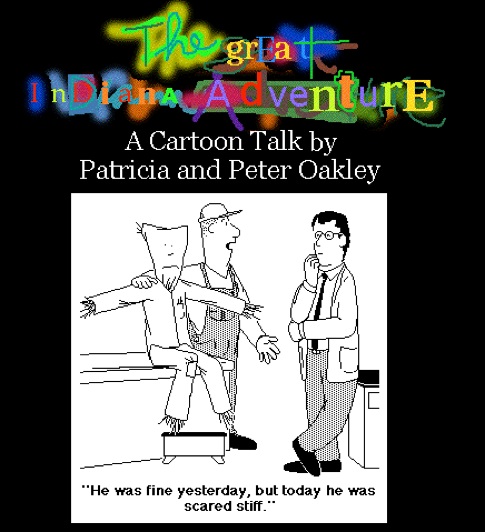 Hi, I'm Patricia Oakley, new faculty member in the Math Department, and this is Pete Oakley, who is working on Web Design in ITS. Several years ago, Pete developed an interest in various aspects of cartooning, especially cartooning on the Internet. He was the first person to have a regular cartoon feature on America Online. In fact, he was on America Online before AOL was AOL, when it was a fledging company called Quantum Computer.
Today we are presenting a "Cartoon Talk". You may wonder, "What is a cartoon talk?" and I'll explain it this way: You laugh at Pete's cartoons while I talk. The title of our talk is "The Great Indiana Adventure". Let's begin our journey.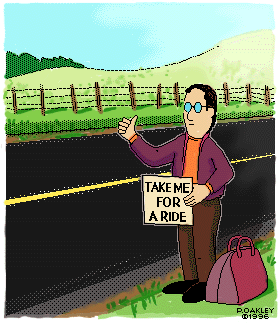 The Great Indiana Adventure

When I decided to accept a position here at Goshen College, and move from our home in Washington State, near Seattle, everyone asked us: "Why ever would you move to Indiana?" The way they said it implied that Indiana was like another planet.

I would tell our friends and neighbors that I accepted a new job. For most people, that didn't seem to be a good enough answer. One friend asked, "And you couldn't refuse it?" It seemed to us that no one in the Seattle area could ever imagine moving to Indiana, such a long way away. One friend joked, "Indiana, where's Indiana?"
To our surprise we've heard similar questions after we arrived here: "Whatever made you move from Seattle to Goshen?" Finally, Pete and I would glibly reply "For the adventure of it all." To which we got pretty incredulous looks. Adventure? In Indiana?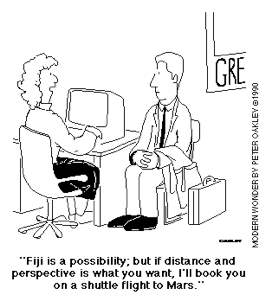 In our own minds, Pete and I think of ourselves as people who like adventure. We got married 12 years ago.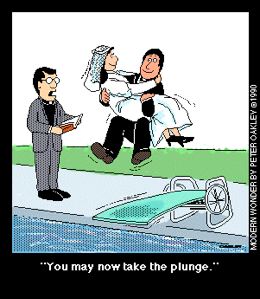 For our honeymoon, we went skiing in Colorado. We hadn't skied since childhood, and the little bumps that dare to call themselves "ski slopes" in Illinois were not adequate preparation for the mountains of Colorado. This was a real adventure! From the tops of those slopes, people below looked like little dots. I thought I was doomed to spend the rest of my (what would be a short) life up there at the top of that mountain. We skied that first day in a wet cold snowstorm. We were inadequately dressed, our clothes got soaked through, and by the time we got off the slopes we were chilled so bad we thought we might die of hypothermia.
That trip set the stage for our anniversary celebrations. Not content to buy each other flowers, or to merely go out to dinner, we set for ourselves the goal of an "anniversary adventure" each year to celebrate our marriage. One year we took hang gliding lessons, and I dislocated my shoulder. Another year we stayed at a turn-of-the-century hot springs resort on the Columbia River, built for loggers and prospectors. We went winter backpacking, where we camped on the snow, and where a hungry skunk tried to steal our dinner. We explored lava tubes left over from old eruptions of Mt. St. Helens. We hiked along the Pacific coast, in the pouring rain. We went snow-shoeing. We hiked in the tick-infested Palouse desert of eastern Washington We spent an overnight bedded down in front of the Beluga whale exhibit at the Vancouver Aquarium. These were our anniversary celebrations.
We see ourselves as people who like adventure, people who are open to change, open to new experiences.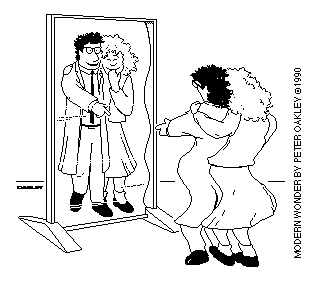 That was our self-image. And so when people asked us why we moved from Seattle to Goshen, our answer was: "For the adventure."

Ten years ago, we moved from the Chicago area to Seattle, Washington. I had just finished graduate school and accepted a research position at a lab at the University of Washington. Pete wanted to try a career in cartooning. We knew we would miss our friends and family, but we were young and eager for a change. Furthermore, the West seemed like an exciting place to go. It was where all those pioneers of the past journeyed for fame, fortune, and adventure.

Seattle is almost as far West as you can go in the continental United States.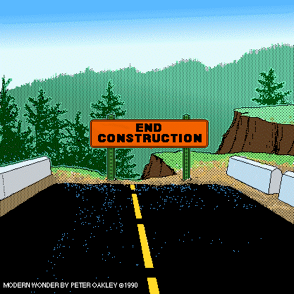 Seattle is a fairly large city, but it seemed small compared to Chicago. We could easily walk from one end of downtown to the other. There were fewer people. Unlike O'Hare International Airport, Seattle's SeaTac airport is always empty. Seattle's claim to fame is Starbucks Coffee.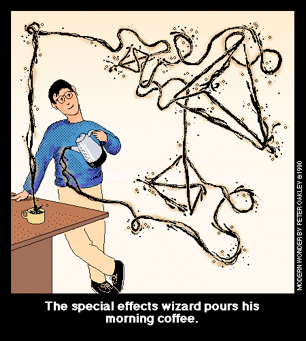 We enjoyed many cups of hot steaming latte's served from cafes and sidewalk vendors in Seattle.
After a few years living in an apartment in the city, we embarked on a new adventure. We bought an acre of land on an Island out in the middle Puget Sound, and we built a house there. The only way on or off Vashon Island was by ferry boat. Every work day we commuted to Seattle on the ferry. It was idyllic. It also took us nearly two hours each way to get to work! But weekends were wonderful. We had a beautiful house in a rural setting, we could take relaxing walks along the beach, we planted trees and a small woods grew up around us, the vegetation was lush, the summers were sunny and the days were long, flowers covered the trees, and berries of every kind were there for the picking.

This was the setting we lived in when I got the hairbrained idea to apply for an open position at Goshen College.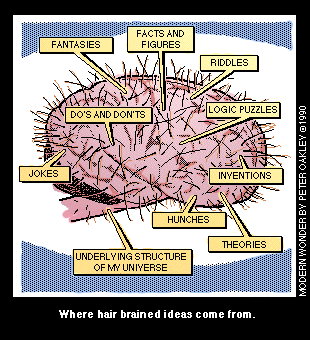 A change always entails some degree of adventure. It is the stepping out from something that is known to something that is unknown. We were happy in Seattle. We loved our house, we were working at jobs that we liked, we had a church we belonged to, and wonderful friendships. We had a great sense of security.
I applied for the job at Goshen because it sounded interesting. But, at the time, I didn't really think that we would actually move. Life was good — why would we want anything to change? Then I got offered the job and things turned upside down.

We had to make decisions, and that upset our stable life. We had to decide whether we were going to stay with what was familiar or try something new. This was risky — we couldn't really know what we were getting into.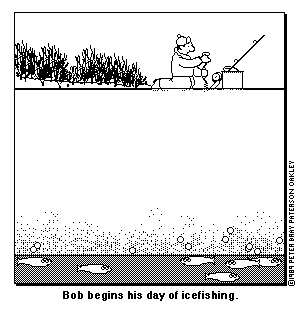 Would we like it here? Would we be able to make new friends? Could we get used to the weather? We could expect tornados.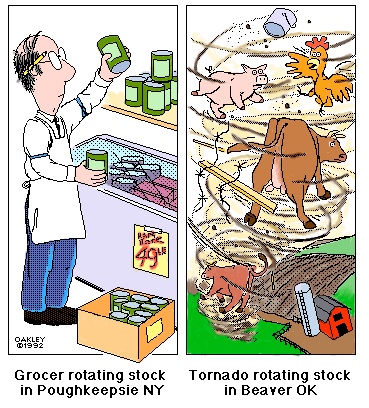 Thunderstorms.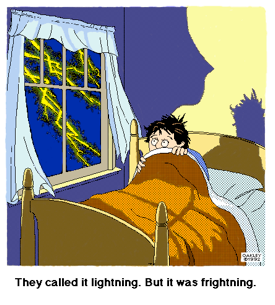 Cold weather.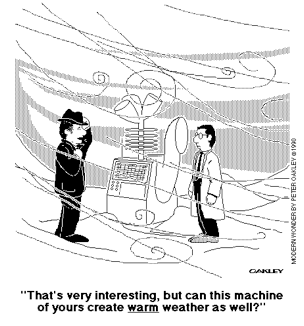 And beastly hot summers.
We both wanted to feel good about our decision to move. My job offer had prompted this decision-making, but Pete had been building a new Internet business. He wasn't going to just be dragged along.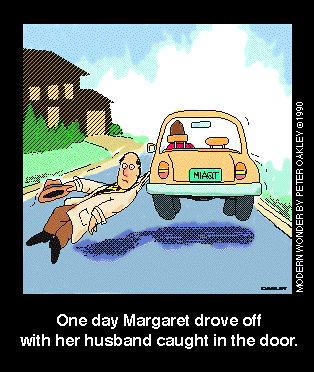 We needed some convincing, and Goshen College was trying hard to sell us on the whole idea.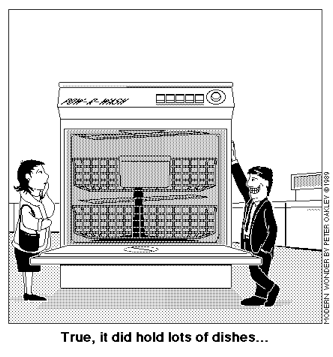 When we both came out for an exploratory visit in April, Floyd Saner, who was organizing this visit, knew what he was up against. So he arranged for us to stay with Marvin and Delores Bartel, at their lovely home in the woods, a place they had designed and built. Not a lot different from our place on Vashon Island. When Floyd described these arrangements to me on the phone, I said "Woods?" to which he replied, "We're trying!" So we discovered that idyllic settings could be found here too — even in Goshen.
On that trip in April, we met Michael Sherer, who likes Apple Macintosh computers just as much as we do. So we were assured we would not be technological outcasts here at GC.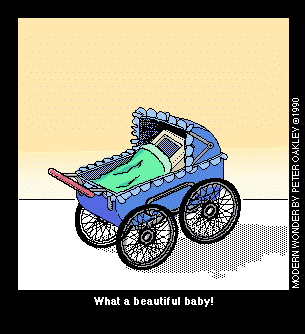 I was excited about my position.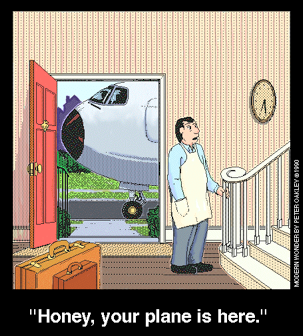 But Pete also wanted to be involved in the community here. He saw that the college had a growing need for Web building, and he persuaded the dean to create a new part'time position. When they offered Pete a job here as well, suddenly he too had an inviting reason to move to Goshen.

So we chose to take the risk — to see if we were still the adventuresome people we imagined we were. We decided to go.

We made another trip back here in June to find a place to live. Our real estate agent had a real adventure trying to help us find a home!
We saw 21 houses in 2 days, and we went to see three of them again on day 3. There were a wide variety of houses we looked at.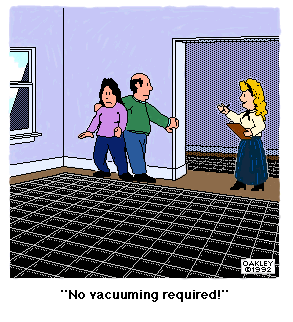 On that third day, we settled on a house, made our offer, and spent the rest of the week lining up financing and inspections. And then we went back to Washington to pack and prepare to move.
Packing was an adventure. It's amazing how much stuff we had accumulated over the years. I remember back to my first year of graduate school, when all my possessions fit into two footlockers.
But now… So we had a big garage sale. We got rid of lots of stuff, and earned some money for the move too. I was happy that we were simplifying our lives. I put in the reservation for a moving truck. I looked at the sizes of trucks. I didn't want to get the biggest truck they had — a 25 footer. After all, we were Mennonites aspiring to that simple lifestyle ideal. Surely we could move everything we owned in a 20-foot truck. When we measured the length on our gravel driveway, a 20-foot truck seemed huge!
The day before our move, we went to pick up the truck, and my spirits sank. Compared to the 25-foot trucks, our 20-foot truck looked pathetically small. There was no way we could get all our belongings into this truck. We had to consider what we should take and what we could leave behind.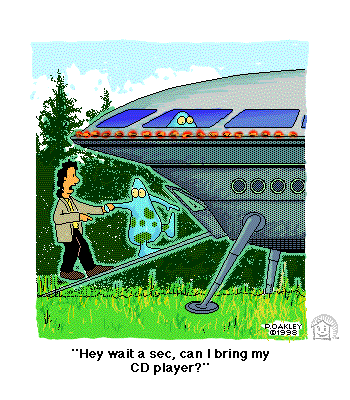 Moving day came in July. We have such great friends — they came to help us load up the truck, and they were determined that we should leave nothing behind. And a miracle happened — somehow everything fit into that truck. In the process, there was this pang of regret. These were the friends we were leaving. Here they were, on an unusually hot day in Seattle, helping us pack this truck that certainly was too small. Though this day was part of the adventure, at the end of it, we were too tired to think much of it.
The adventure had begun months earlier, but our three cats had no idea what was about to happen. For them, the real adventure had just started, and it was terrifying. Our truck was packed, our house was empty, we were going to leave the next morning. We called the cats in to dinner; they ran in, and immediately freaked out. There was no furniture in the house. There were no boxes anywhere. There was no place for them to hide. They whined and ran around, trying to discover what had happened to their familiar surroundings. They didn't eat much that night, nor for the next 5 days while we were traveling on the road. Five days of upheaval, watching the world roll by. Five nights spent in strange motels with strange smells and strange sounds. Camille, our bravest cat, rode with Pete in the moving truck. Duncan and Macallan rode with me in our pickup truck. All three spent their nights cowering in the darkest corners of the motel rooms.
For us, driving across the country was an adventure too.

What a big country! We couldn't travel very fast with the moving truck, and because we had the cats with us, we couldn't stop for sightseeing either. All those signs for Wall Drug tempted us.
But we drove on. We had two-way radios we used to keep in touch between vehicles. We communicated sights and signs along the way, arranged gas and food stops. We helped each other find NPR on the radio dial. We even let the cats meow to each other over the walkie-talkies.
Our trip across the country took us on nearly the same route that, ten years earlier, we had driven on, to get to Seattle. Were we travelling in circles?

Now we've been here for nearly three months. We haven't had too much of that awful hot humid weather. It hasn't gotten terribly cold yet either. We've already survived two tornado warnings.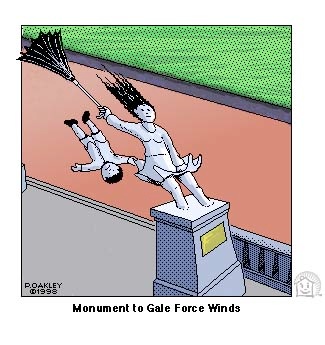 And some pretty heavy rainstorms.

We're living in a house in town, not a house in the woods. But we've planted some acorns, got a couple of tulip tree starts, and transplanted some maples that were volunteering. So maybe, eventually, we'll be in our own tiny haven of trees again. We like driving and bicycling out into the country. We've enjoyed going to farm auctions, and watching the Amish farmers bid on strange and mysterious farm implements. We've been enjoying this rural setting, far away from the city.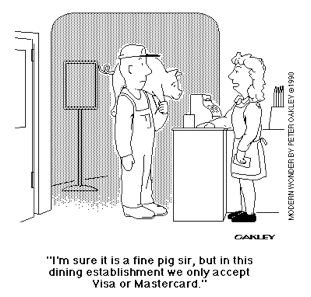 We had choices, and we made a choice.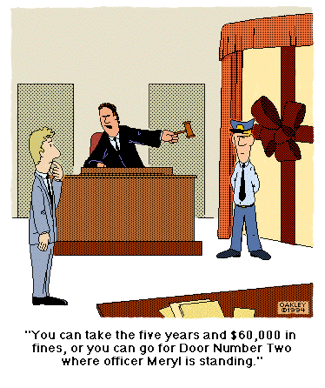 Both options, to stay in Seattle, or move to Goshen, seemed good. We struggled with the decision because we wanted clarity of vision.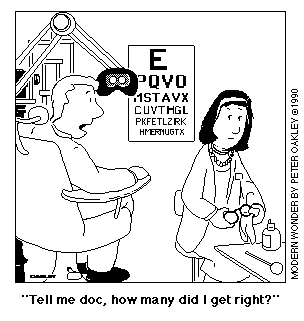 Either choice would have been an adventure, because in any case, the future is unknown and uncertain. When we were in the midst of our decision, we talked a lot about what is home. We felt sad at leaving what, to us, seemed like a perfect home.
We put our house up for sale, and it goes to new owners at the end of this month. When it does, we will have closed that door, and there will be no going back.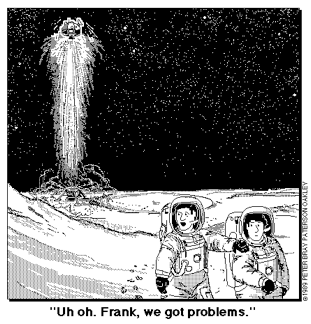 I expect we will grieve. But our home is wherever we are. We could choose to look back with regret, or we could choose to look forward with anticipation. If we but open our eyes, we'll see the wonder that surrounds us.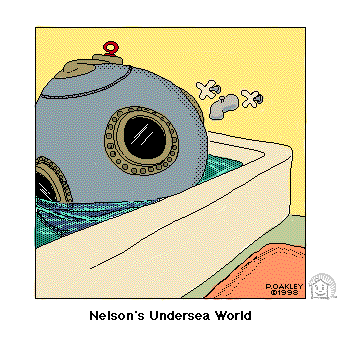 We see this place with a fresh perspective, and are thankful for what we have here. There are things we'll miss about Vashon Island, but there is plenty we already like about Indiana, and still more to discover. This was our adventure of moving to Indiana. The adventure continues, and we don't know what is to come, but experience tells us things will work out.