First published on November 20, 2013 on goshencommons.org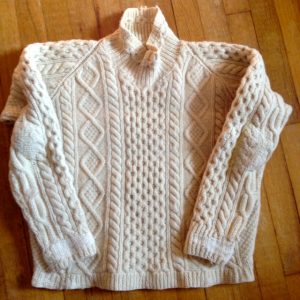 With the cold weather that moved in a couple of weeks ago, I needed to pull out my warm winter sweaters. As usual, the first sweater that came out of the cedar chest was my old Aran sweater.
I don't know about anyone else, but, when I have a favorite item of clothing, I will wear it all the time.
It doesn't matter if it is ragged and tattered and rather disreputable looking.
It doesn't matter if I purchased a replacement for it.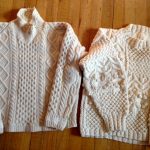 I still wear my favorite. My sweater has intricate cables, a honeycomb stitch pattern and an interesting neckline. I've washed it so many times that it is nicely felted, keeping me warm and cozy. It is perfect.
This old Aran sweater did not start out as my favorite sweater. In fact, it started out as a replacement sweater.
Back in high school, I acquired one of my brother's old hand–me–down sweaters. It was an off-white cotton sweater with the cables and stitches found in Aran styling. I loved that sweater. It became part of my school "uniform": jeans, T-shirt, sweater.
One year, the high school hosted a "mother's tea." Mothers were invited to come to the school, have tea and snacks, and then listen to a program showcasing some of the students. I was asked to play a piano piece for the program. My mother, who worked during the day, couldn't attend. I carefully prepared for the program, practicing the movement from the Beethoven sonata that I had chosen to play. The day arrived and off to school I went. When I returned home that afternoon, I told my mother that the mother's tea had occurred that day and that I had played well. She looked at me, horrified, and asked, "You dressed like THAT?" I looked down at what I was wearing, a bit confused. It just hadn't at all occurred to me to dress in anything other than my regular clothes. So I was wearing jeans, a T-shirt and my beloved sweater, which, by this time, had become quite tattered after years of being worn first by my brother and then by me. When asked what the other children had worn, I couldn't reply. I paid no attention to what anyone else was wearing. But I did recognize that, perhaps, maybe, I should have paid some attention to my clothes.
Some time later, when we visited an Irish import store, my mother bought me a wool Aran sweater with cables: my now–favorite sweater. But, at the time, I thought it was much too fancy, much too good, much too expensive, to wear much at all. It languished at the bottom of my winter clothes box for many years, only being pulled out for "special occasions."
When I moved to Seattle, I discovered the virtues of wool. In a damp, misty and drizzly climate, wool is indispensable. Wool is warm, even when damp. Wool wicks and so is perfect for strenuous activities. With need of more wool in my life, I pulled out the Aran sweater and began wearing it in earnest. I wore it hiking. I wore it working outside. It soon became my favorite sweater. And, as such, it started getting worn and tattered.
Over the years, my mum mended my sweater. She darned the elbows and the worn bottom edge. The cuffs are more patched than original. Even though she didn't match the stitch pattern, her mending blends in so well that it is hard to notice.
This year, when I pulled it out of the cedar chest, I noted that my sweater needs more repairs. The neck edge is frayed; there are more holes in the cuffs.
I can't go to my mum anymore. Her eyesight is failing and her hands are not steady enough to work with yarn and needle. So I will have to try to fix my sweater. Because, of course, I need to wear it all the time.