This year, I once again have many tomato plants in my garden, tomato plants that I started from seed. And I'm looking forward to having enough of a tomato harvest to be able to can some tomatoes for the upcoming winter.
It was my mum that taught me how to can tomatoes. Until the last year of her life, she helped me with the fall canning. I miss her.
---
First  published on goshencommons.org on December 15, 2012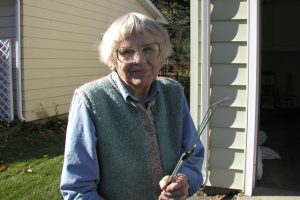 I come to her apartment and find her trying to stand at the sink, legs shaking a bit, and then sinking back to her wheelchair. I wheel her to her desk and see her hands fumbling as she tries to open Christmas cards. She starts asking me a question but has a hard time remembering the words. And I wonder. Will my mama be able to can tomatoes with me next fall?
I didn't start canning until my mum, Nina, moved to Goshen in the spring of 2000. She was the one who had the equipment: large pots to cook the tomatoes, the canning pot, the brilliantly designed jar lifter such as I've never seen anywhere else, and the all important Ball Book of food preserving. Most importantly, she had the experience, so she could guide me in the ways of canning tomatoes.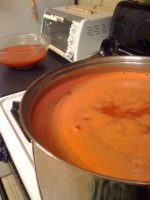 Before the deep freezer came into our lives, my mum and aunt canned blueberries, cherries and tomatoes. After the freezer, the blueberries my family picked went into the freezer. Other fruit became more readily available all seasons at the grocery store year round. But they still canned tomatoes. Later, they stopped canning altogether as tomatoes, fresh and in tins, could be purchased as well. But my mum still kept all the canning tools and equipment and that equipment moved with her from Washington to Indiana.
We developed a system and it hummed like a well-tuned production line. We all had tasks to do. All of us, Pete, my mum, and I, would peel the tomatoes. While the tomatoes were cooking I would set up the table for filling the jars. And then the canning production would begin.
I would bring a hot jar to Pete.
Pete would fill it and pass it to my mum.
My mum would make sure that the jar was filled to the correct level, run the rubber spatula to get rid of air bubbles, wipe down the edge of the jar and put on the lid and band.
I would take the filled jar back to the stove and the boiling water canner and bring another empty hot jar to Pete.
As I grew other vegetables in the garden, we introduced my mum to other canning recipes, and she gamely went along with all of our experiments. All our canning occurred at her house, using her pots and canning tools. There was the year of the cucumber. Who knew that planting one row of cucumber plants would yield more cucumbers than we could possibly eat? So we made dill pickles, sweet pickles, cucumber chips, bread and butter pickles.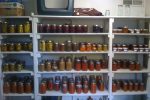 Three years later, we are still eating some of those pickles. We made blueberry, cherry and raspberry jam.We bought a Victorio strainer and made tomato sauce. We made pear chutney one year and pear sauce two years later. We canned habernero peppers. We made a sweet hot sauce and salsa.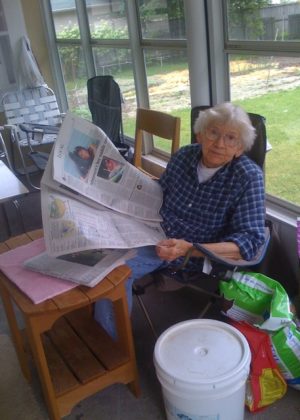 Over the last couple of years, my mum started slowing down. She spent more and more time resting. But she still wanted to be part of the canning process. Last year we did about three runs of canning tomatoes and she did her part.
I've only ever canned with my mum. I think she has taught me well what to do. But as I see her now, I wonder whether she will can tomatoes again. And I wonder also, will I?