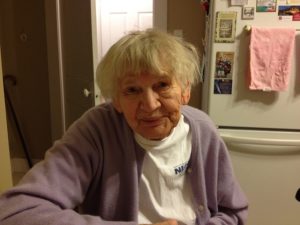 On Feb. 17, my mum died. It was both unexpected and not. She was 90 years old and had lived a good long life. Although she had been gradually slowing down, doing less and losing mobility for a couple of years, she was still relatively healthy, had a smile whenever I went to visit, enjoyed being pushed in her wheelchair outside when the weather wasn't too cold, noticed whenever I wore a new piece of clothing, and was able to enjoy all that snow outside from the comfort of the inside. So I didn't expect her to suddenly take ill, develop pneumonia and die less than a week later.
"It's the end of an era," my husband said. My mum had moved to Goshen in 1999 to be closer to us. She lived less than a mile from us until 2003 when we bought the house right next door. For almost 15 years our lives were closely intertwined.
In the midst of the whirlwind of activity during her illness and afterwards, I was able to reflect on her life and what I learned from her, lessons that have stayed with me and that will continue with me.
Place importance on education. It was always expected that I would do my best in school and go on to college. Science and mathematics were also emphasized. When I didn't register for freshman biology in high school, my mum made me change my registration. When I brought algebra assignments home, she sat me down and made me do all the story problems, whether they were assigned or not. And she had no trouble helping me with my algebra homework. I credit becoming a mathematician to her influence and that insistence that I learn mathematics.
Find time to play. I was an avid reader. I could spend hours inside, curled up on the sofa, reading. Time after time, my mum would tell me to go outside to play. She wanted me to be in the fresh air and sunshine, in the snow and cold, playing. She certainly wasn't against reading, but she wanted me to have a balance between sitting and reading and being active, running and playing. It was all those times, playing outside, often by myself, that cultivated my vivid imagination.
Find balance between work and play. My mum often said that I would grow up soon enough and have to accept adult responsibilities, but, while I was a child, I should play. Probably this was a reaction to her own hard childhood in the Soviet Union; she wanted me to be happy and carefree. She did have expectations; my childhood work was to study and do well in school. But even in this, she recognized the need for balance. There were times when I just didn't want to go to school. If I wasn't trying to get out of something, unfinished homework or a test, if I was just wanting a brief break from school, then she let me stay home. I have tried to keep that balance between my work life and my home life.
Make time for music. Piano lessons were never an option. Starting when I was about 8 years old and through high school, I took piano lessons. Practice started at a half-hour a day moving to an hour a day. There were many times that I wished I could quit. When I got to college, I discovered, much to my surprise, that I didn't want to quit; I wanted to continue taking music lessons. All those years of playing the piano prepared me well for a new passion in college – playing the organ. Now I am glad that I was never allowed to quit piano lessons.
Enjoy the city. I spent many happy days going to Chicago with my mum on the "L". We went shopping at Marshall Field's. We saw the Christmas windows in the department stores. We went to all the museums – many times. The city was a place for fun and learning and I grew to love the benefits of living in an urban area.
Enjoy the outdoors. We were not a particularly outdoorsy family – we never went camping – but we did enjoy day trips to outdoor venues. In the western suburbs, the Morton Arboretum provided hours of exploration and discovery. During the summers, we spent Saturdays swimming at one of our favorite lakes. In winter I lived for snow when I could go skiing and freezing temperatures so that I could go ice skating at numerous parks in the Chicago area. I still revel in being outdoors to experience the change of seasons. I loved this winter with its frigid temperatures, the crunchy snow beneath my feet, the stinging cold on my face. I'm looking forward to spring, and then the summer heat that will warm my bones.
Pay attention to the world around us. Our family vacations were mostly by car, driving east, visiting friends and seeing historic sites. While driving, it was expected (even required) that we look out the windows to see the terrain, the landscape and the sites through which we were driving. The journey was part of the experience, and we were supposed to immerse ourselves in the journey as well as the destination. Now, the way I pay attention to the world around me is by decidedly not multitasking: for example, I'm not usually plugged into earbuds when I am outdoors, walking, weeding, shoveling snow or raking leaves. Instead, I listen to the ambient sounds around me. It's a form of meditation. Then, when I want to listen to music, I just lie back and immerse myself in those sounds.
Find exercise in daily activities. My mum was of the opinion that daily activities should and could provide enough exercise to stay fit and healthy. Even in her 80′s, she got down on hands and knees to wash the kitchen floor and went outside every fall to rake leaves. While I do engage in more intentional exercise, I prefer being active in everyday activities. That's one of the reasons I prefer walking rather than driving to nearby destinations. That's why I love shoveling snow. That is why I love my new life in farming. I am glad to have movement and action built into my life and work.
Buy quality. We were not a wealthy family but we had enough. And the things we had were of good quality. My mum thought it was better to have one good quality item, than many items that do not last.
Sometimes, it is better to make than to buy. Almost all the dresses I have were sewn by my mum. She made my favorite winter anorak, which I still happily wear every winter. In terms of quality, her handmade clothes were superior to anything I could find in a store. Her main interests were sewing, but she could knit and crochet as well. She crocheted the best potholders in the world and made hats that fit perfectly. I've done a bit of sewing though my interests moved in the direction of making my own yarn, knitting and crocheting. I will miss collaborating with her on sewing projects. Since I have a whole box of fabric and patterns, I will have to continue her sewing legacy on my own.
Learn to mend. My mum mended rather than discarded worn clothing and linens. My favorite sweater is a testament to her expert mending skills. I am not the skilled mender that my mum was; I can't seem to sew a straight line and my stitches are very uneven, but I am inspired by the mending she did over the years and hope to continue in that tradition.
Eat good food. In our tiny yard, we had limited space for a garden. But we did grow some produce: sorrel, mint, carrots, peas and my perennial failed attempts at growing corn. Even as a child, I ate interesting vegetables such as asparagus and artichokes. I avoided cooked peas however, preferring them fresh from the garden. Carrot juice was a staple in our house and I am happy to now have my mum's juicer in my kitchen. We went blueberry picking, strawberry picking, apple picking. I learned to can tomatoes and freeze blueberries. Now I am able to grow more of my own produce, preserve more of the food I grow, and continue to eat well.
Be independent and self-reliant. The best lesson I learned from my mum was to be strong, independent and self-reliant. My mum was a strong woman. She had a lot of hardship in her life but made it through, and, like homesteaders in the past, created a life for herself and her family in a new place, a new country. From her, and her example, I acquired a fierce determination to draw on my strengths and make my way in the world.

A couple of days after my mum died, the last of our parents to die, my sister said to me, "You know what this means? It means we're the grown–ups now."
We're the grown–ups? That is a sobering thought.
What lessons will we leave?