This post first appeared on goshencommons.org on November 3, 2012
As much as I love planting seeds every year, I love plants that come back every year on their own. In my garden, these plants include cherries, raspberries, pears (though I only get fruit every two years), strawberries, rhubarb, asparagus and the super food – kale!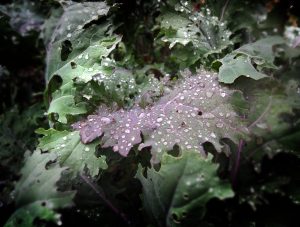 I don't know if kale is supposed to be perennial. Does it re-seed? Does it spread from roots? I don't know. What I do know is that the variety I planted several years ago (Red Russian) does come back year after year. After one particularly cold winter it was a bit scrawny in the spring. But it survived and came back in full force the following year.
Kale is a great food. Here are some facts about kale.
Kale belongs to the brassica family of vegetables. Other brassicas are cabbage and Brussels sprouts. Kale is like an open-leafed cabbage with similar firm leaves.
Kale is a good source of many nutrients, including beta-carotene, lutein, calcium, and vitamins A, C and K.
One cup of cooked kale contains about 2.5 grams of protein and about 5 grams of dietary fiber.
Kale has been cultivated for many, many years. It probably originated in the Mediterranean region.
Kale grows well in cool weather, so it is an ideal plant to have in your fall or spring garden.
In addition to surviving the winter, kale does spread. I don't mind since I like kale so much. I even now have kale growing in my lawn.
Kale is, apparently, pretty trendy now. I've even seen kale chips in the store. But I started growing kale before I was aware of its increasing popularity.
My favorite way to prepare kale is quick and easy. I rarely go to recipe books, preferring instead to just throw some ingredients together and see what happens. That's how this recipe (if you can call a loose set of instructions a recipe) came into being. I had lots of kale in my garden and wanted to make something with what I had on hand at the time. I loved the result.
Kale with Onions and Tomato
Get out your largest frying pan. I have a relatively deep cast iron frying pan that I use for just about anything I want to make.
Chop an onion and fry in some olive oil until transparent. If I have garlic on hand, and remember, then I might also fry minced garlic along with the onion.
Chop up a bunch of kale. How much is a bunch? Well, I really don't know. I just pick kale from my garden until it fills up my market basket.
Add the chopped kale to the onions in the frying pan and cook it until it wilts. I usually have picked so much kale that it doesn't all fit in the frying pan at once. But kale wilts down quickly. As I cook the kale, I add more of the raw kale until all is cooked.
Add spices as desired. Here is where you can get creative. Do you want an Italian flavor? Then you can add oregano and thyme. Do you want something more spicy? That calls for red pepper. I like to experiment with spices. I don't usually add salt, instead relying on other spices and herbs to provide flavoring.
When the kale is all wilted, stir in some tomato paste and heat through. Again, I can't really tell you how much tomato paste to add – it depends on the amount of kale – but I would start with just a small can, enough to coat the greens, but not make the dish saucy or soupy.
Serve warm on toast.
I've been making this kale dish for years. Imagine my surprise when I found a similar recipe written down in a cookbook. "Simply in Season" has a recipe for Savory Kale that uses the same ingredients. The instructions are somewhat different, however. I don't add water and I don't cover the pan to steam the kale and I cook everything together rather than separately, but, otherwise, Savory Kale is very much like my recipe.
"Simply in Season" has other recipes for kale and other greens. Greens in Peanut Sauce has become another favorite way of preparing kale. That recipe has the unlikely combination of peanut butter and tomato, but these ingredients surprisingly blend together quite nicely. Another way we've used kale is as a substitute for spinach in a vegetarian lasagna.
So, if you haven't yet, give kale (trendy but timeless) a try.