I am in a seemingly never ending search for the perfect bag. At the farmer's market, the renaissance faire, REI, I gravitate to those vendors or to those sections of the store that sell bags.
But I have since realized that there is no perfect bag. It isn't that perfect bags don't exist. Rather, it is that my idea of perfection is a moving target. What is perfect today may not be perfect tomorrow.
What I need in my "perfect" bag has changed over the years.
Back in my college and graduate school days, I had few needs. I needed to carry some cash and my school ID card. I only had two keys, the key to my apartment building and the key to my apartment. To carry these items, all I needed was a very small bag.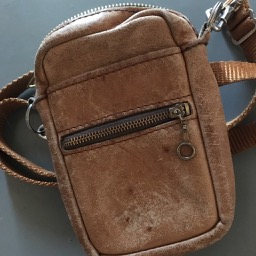 This tiny leather bag was perfect. My keys and change went into the front zippered compartment. My cards slid into the pocket. My (very small) wallet went into the main zippered compartment. The strap was long enough that I could wear it as a cross body bag. Everything was secure and everything fit.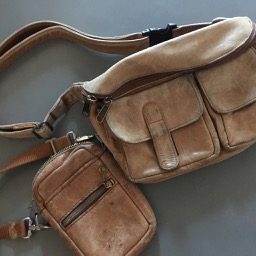 But then my needs changed. In addition to apartment keys, I now had a car key. My wallet got thicker. In it, I had a driver's license, a couple of credit cards, a library card, a bank card, a grocery store card. It was no longer that easy to cram the thicker wallet into my tiny bag. At another renaissance faire, I found the "perfect" replacement for my little bag.
My new waist bag had the added advantage of being hands-free. When I got my first cell phone, a tiny little thing that was about the size of a lighter, it fit nicely in the smaller outside pocket. My second cell phone, a slightly larger flip phone, also fit in that same pocket. Things were perfect.
But then I got more technology: a smart phone, a iPad. My perfect bag no longer worked so well. I needed to find something else.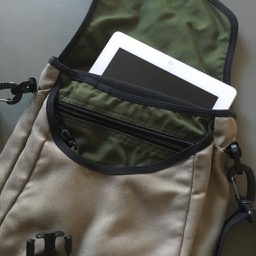 Enter the Ristretto by Tom Bihn (my newest favorite bag maker). It had so many organizer pockets: a padded pocket for the iPad, two pockets that were perfect sizes for my little to-do notebook and my iPhone, a couple of pen pockets, a zippered pocket where I put my wallet, a main compartment which could hold a book or notebook, and a back pocket perfect for loose papers or a magazine. It also had several o-rings onto which I could tether my keys.
This new bag held much promise to become my Every Day Carry Bag. However, I soon discovered the main problem with this bag. Because it fit so many things, I tried to make it my one and only bag. But with everything that I wanted to carry at times, the bag became much too heavy. Even with its padded cross body strap, one shoulder was carrying more weight than was comfortable.
Maybe one bag will never be my perfect "Every Day Carry Bag". My solution now is to have two bags.
a backpack for my MacBook and/or iPad, books, and binders; all those heavy things that were weighing down my Ristratto.
a smaller bag for all the other sundry items that I carry: wallet, keys, a pen and a pencil and my little to-do notebook, the iPhone, my earbuds,
I pulled out my absolute favorite backpack, my 40+ year old Jansport. They do NOT make backpacks like this any more. A piece of leather secures the straps in back. The buckles are metal – they will never break like plastic ones do. And Jansport, true to its lifetime guarantee, replaced my broken zipper for free about twelve years ago.
And I purchased a smaller bag, the Sidekick, from Tom Bihn.
My Jansport is a relatively small backpack. It will hold my laptop, a textbook, and a thin binder. So it never gets too terribly heavy. Carrying a backpack is easier on my shoulders than carrying a cross-body shoulder bag.
The Sidekick is a perfect small bag. It has lots of organization. An outer zipped pocket has my keys, tethered nicely by the o-rings and key-straps. Inside are more o-rings and multiple pockets. The interior o-rings tether my Tom Bihn wallet and other organizational pouches. This means I will never accidentally leave my wallet somewhere ever again. There are pockets for my phone, to-do notebook, a pen, a pencil, sunglasses, and more. I can nicely fit a paperback in the main compartment.
So for now, I don't have a perfect bag, but I do have a perfect bag combination. The operative word is "for now". Things might change. Who knows what I will need in a year or two?